DO YOU KNOW APPROXIMATELY 4.5 BILLION ACTIVE USERS ARE USING THE INTERNET AROUND THE GLOBE? ONLY BY THE MEANS OF AN INTERNET CONNECTION, YOU CAN ACCESS TO THE 4.5 BILLION PEOPLE. THERE IS NO BETTER WAY THAN ADVERTISING YOUR BUSINESS OR BRAND ON THE INTERNET. DIGITAL MARKETING IS USING THE SOCIAL MEDIA CHANNELS SUCH AS FACEBOOK, TWITTER, YOUTUBE, ETC.  MOST OF THE PEOPLE SPEND MOST TIME ON SOCIAL MEDIA SEEKING INFORMATION OR ENTERTAINMENT. ACCORDING TO RESEARCH, THESE ARE THE STATS OF THE PAKISTAN. AROUND 47.5 MILLION PEOPLE ARE USING THE INTERNET WHICH IS AROUND 21 PERCENT OF THE TOTAL POPULATION. DIGITAL MARKETING IS USED BY MOST OF THE BUSINESSES TO PROMOTE THEIR BUSINESS BY THIS IT REACHES MORE PEOPLE WHICH LEADS TO MORE SALES OR MORE BRAND AWARENESS.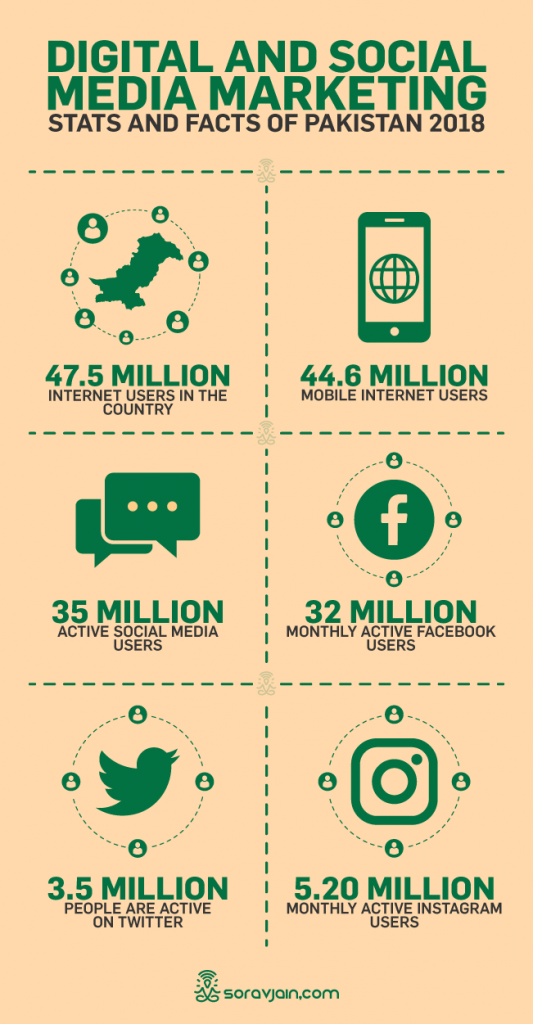 BENEFITS OF DIGITAL MARKETING        
FROM LARGE-SCALE BUSINESSES TO SMALL-SCALE BUSINESSES ANYONE CAN BENEFIT FROM DIGITAL MARKETING
BUILDING BRAND AWARENESS
ENGAGING CUSTOMERS AND GENERATING SALES
BUILDING A STRONG CUSTOMER-CLIENT RELATIONSHIP AND LOYALTY
GUIDING CUSTOMERS FROM THE MARKETING FUNNEL TO THE SALES
TYPES OF DIGITAL MARKETING
DIGITAL MARKETING IS NOT THE NAME OF THE ONE SINGLE STRATEGY OR PROMOTION THERE ARE SEVERAL TYPES OF DIGITAL MARKETING:
SEARCH ENGINE OPTIMIZATION (SEO)
SEARCH ENGINE OPTIMIZATION IS THE PROCESS OF IMPROVING THE QUALITY OF WEBSITE TRAFFIC TO A WEBSITE FROM SEARCH ENGINES. SEO IS USED TO TARGET THE UNPAID TRAFFIC.
ONE OF THE STRONG MARKETING STRATEGIES IS SOCIAL MEDIA MARKETING THROUGH SOCIAL MEDIA CHANNELS SUCH AS FACEBOOK, INSTAGRAM, TWITTER, YOUTUBE, PINTEREST, AND LINKEDIN. POST ANYTHING RELATED TO YOUR PRODUCT, AND CHOOSE THE SOCIAL MEDIA CHANNEL ON WHICH YOUR USERS ARE MOST  ACTIVE TO REACH THE MOST NUMBER OF PEOPLE.
CONTENT MARKETING IS A STRATEGY WHICH USES TO ATTRACT, ENGAGE OR RETAIN AN AUDIENCE BY CREATING AND SHARING ARTICLES, VIDEOS, POSTS, OR ANY OTHER MEDIA.
AFFILIATE MARKETING IS A BUSINESS BASE REWARD SYSTEM BY WHICH THERE ARE REWARDS TO BRING VISITORS OR CUSTOMERS TO THE WEBPAGE THROUGH AN AFFILIATE'S EFFORTS.
INFLUENCER MARKETING IS A TYPE OF DIGITAL MARKETING THAT USES ENDORSEMENTS AND PRODUCT MENTIONS FROM THE INFLUENCERS WHO HAVE DEDICATED HUGE FAN FOLLOWING.
EMAIL MARKETING IS THE ACT OF SENDING A PROMOTIONAL MESSAGE TO A GROUP OF                PEOPLE. MORE BROADLY SENDING EMAILS TO THE CLIENTS OR REGULAR CUSTOMERS ABOUT THE UPDATES EMAIL MARKETING
MOBILE MARKETING IS PROMOTIONS SENT THROUGH SMS, THROUGH DOWNLOADED APPS USING PUSH NOTIFICATIONS, OR THROUGH IN-APP OR IN-GAME MARKETING. IN PAKISTAN ABOUT 90 PERCENT OF THE USERS ARE USING THE INTERNET ON MOBILE PHONES. THIS IS WHY MOBILE MARKETING IS FAST-GROWING AND NOWADAYS MORE PEOPLE ARE INVESTING IN MOBILE MARKETING.
CONVERSION RATE OPTIMIZATION (CRO)
CONVERSION RATE OPTIMIZATION (CRO) IS THE STRATEGY TO INCREASE THE PERCENTAGE OF USERS WHO CLICKS ON THE DESIRED ACTION. THESE ACTIONS COULD BE SUCH AS "ADD TO CART", "SIGNUP FOR 10% DISCOUNT" OR "CLICK ON THE LINK".
PAY PER CLICK IS A TYPE OF DIGITAL MARKETING WHERE THE ADVERTISER PAYS THE FEE WHENEVER THE AD IS CLICKED BY SOMEONE. THIS METHOD IS USED TO DRIVE TRAFFIC. THIS METHOD ALSO DRIVES ORGANIC TRAFFIC.